Learn How VidDay Scaled their Business Using Cloud Accounting — ConnectCPA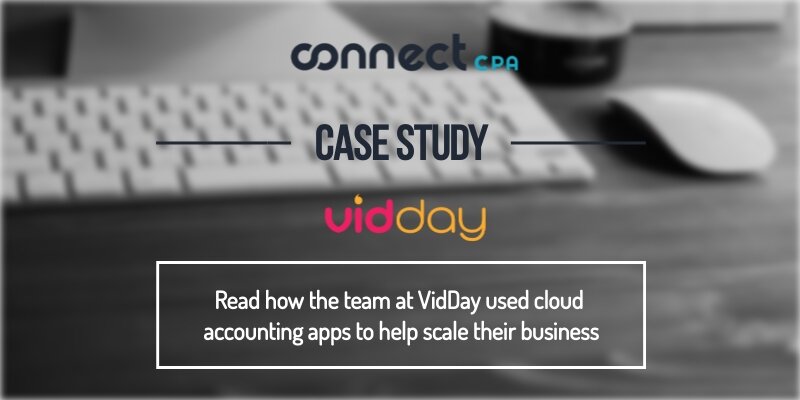 Tl;dr
ConnectCPA stitched together multiple cloud accounting apps to streamline VidDay's finance function. The new integrated apps plus the special sauce of ConnectCPA's team facilitates on-time monthly deliverables and reporting.
Big thanks to the ConnectCPA team involved in the implementation and a shout-out to the VidDay team for embracing change.
BACKGROUND
VidDay allows users to create videos for special occasions in a streamlined fashion, centred on user experience.  
When the pandemic hit, celebrations like birthdays, weddings and anniversaries were cancelled - but that didn't stop friends, family and loved ones from wanting to reach out to celebrate - virtually.  And so the business took off.
The VidDay team reached out to us in June of 2020 - a few months after COVID-19 was in full- swing in North America - and they were growing fast.
When companies experience high growth early on, they're usually preoccupied with running their business and ensuring that customers are happy.  In many cases, the accounting, bookkeeping, payroll and back-office takes a back seat until there's a reason to worry (investors want to participate, cash-flow issues, etc.).  This can result in a lot of catch-up work and delays.
VidDay contacted us at the perfect time - just as they started gaining traction - and they had the foresight to understand how important the finance component of their company would be.
Through multiple deep-dive meetings and discussions, we were able to build a scalable solution by stitching best of breed cloud accounting apps together.  The result is a more digital and automated framework for VidDay's finance function.
WHAT DID WE DO?
As a start, we migrated VidDay's data from their accounting system to Xero. We then focused on the following components:
Vendor Payments
Paying vendors on time is critical to keep operations running smoothly. Prior to working with ConnectCPA, VidDay was using a manual approach to vendor payments. By leveraging Xero's API, we were able to integrate multiple apps to automate the process.
Before
Vendor invoices were stored in multiple inboxes and systems and these invoices were entered manually into VidDay's previous accounting system

Payments were done intermittently and through various sources (e-transfers, PayPal payments, etc).
After
A centralized spot, using Dext, for all invoices/receipts was set up so that our bookkeeping team could access vendor invoices quickly and easily for reconciliation purposes

Automation was set up between Dext and Xero to ensure all vendor invoices were automatically created as accounts payable in a timely manner - coded to the correct accounts with the appropriate sales tax rates.
A vendor payment app, Plooto, was implemented and integrated with Xero to sync all outstanding vendor invoices. A payable process and schedule was set up to ensure vendor payments were made on time meanwhile all invoices auto-synced to the accounting system when paid, making bookkeeping and reconciliation streamlined.